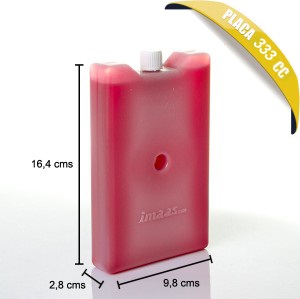 IMAAS "GEL EUTÉCTICA" is the perfect product to keep your products cold or frozen. It is a scientific and technological replacement to dry ice or common ice and without the uncomfortable waste of water and high costs that these generate. Additional is 100% hygienic.
EXPLANATION:
It is a GELATINOSA substance that is capable of storing a lot of cold in its interior for a long time and this cold is releasing it in a controlled way by its EUTÉCTICO behavior. An example would be like the cell battery, but instead of being charged with electric energy is charged with thermal (cold) energy. It saves more than twice as much kilocalories as a liquid like water and the heat it needs to thaw is very high, so it keeps its products fresh or frozen for longer and allows the user to manipulate and / or transport their products better , Without so many worries and without expensive portable generators of cold.
It is much better than ice (frozen water) and other products used, because our gel is very cold due to its eutectic composition and is thawed very slowly.
Its thawing is slow and requires a lot of heat to thaw, since its melting point (defrosting point) is the sum of its EUTECTIC compounds.
Our EUTECTIC IMAAS GEL can be manufactured to freeze and accumulate different temperatures ranging from 0 ° C to -45 ° C. Each of the temperatures we sell comes in different colors for greater control and safety.
The synonyms with which you can recognize our product are: Plastic Ice, Cooling Gel, Cooling Gel, Ice Substitute and its characteristics are as follows:
IMAAS EUTÉCTICA REFRIGERATION GEL PLATES are state-of-the-art.
Blue, green and red GEL color, or the desired color if it is of another temperature.
We are friendly to the environment, that's why our GEL is 96.3% Biodegradable.
Standard freezing temperature: -45, -30, -21, -17, -15, -10, -5 ° C. We can manufacture the temperature that the customer requires.
Plates reusable for up to 4 years.
Disposable bags.
Does not generate waste.
Completely hygienic.
Easy to use.
We pack IMAAS eutectic GEL in different types of containers: 2 liter plates, 1.5 liter plates, 1 liter flat plates, 1 liter plates, 333 cc plates. And bags of 300 c.c.